I hope you've all enjoyed Christmas and New Year – we had a lovely time spent with family and generally eating a little bit too much, so it was great to make the most of one of the nicer days to stretch our legs to walk off some of that turkey and cake!
We decided on a circular walk from Treen to Porth Chapel which is down around the Porthcurno area in West Cornwall. We have done this walk before quite a few years ago with the children on a beautiful summer's day with turquoise seas and the sun shining – not quite the same weather conditions this time around, but it was at least dry!
Treen is a little hamlet reached off B3283 St Buryan road. It has a very good pub, The Logan Rock Inn, which dates back to the 16th century. Past the pub there is a carpark where we started our walk (it was just £2 for a day).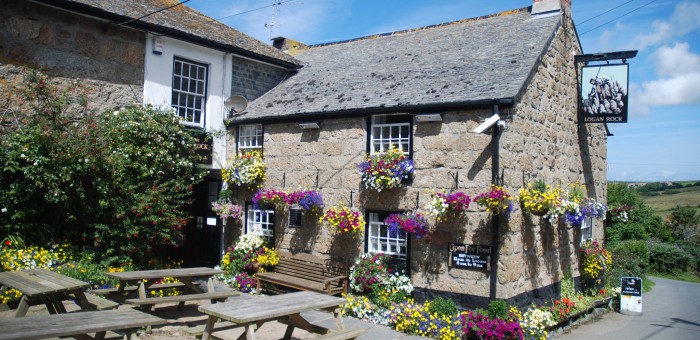 From Treen, we went back to the main road and then followed the route to Penberth along a quiet lane/road. Penberth is a tiny hamlet in a beautiful setting within the parish of St Levan. There are a handful of cottages, as well as in the impressive Penberth House and gardens, in the peaceful valley which runs down to the sea and the small working harbour at Penberth Cove which has a granite cobbled slipway and a clapper-style granite crossing over a tumbling stream.
In one of the cottage gardens, there was an alternative Christmas tree with fishing buoys hung from branches – brilliant!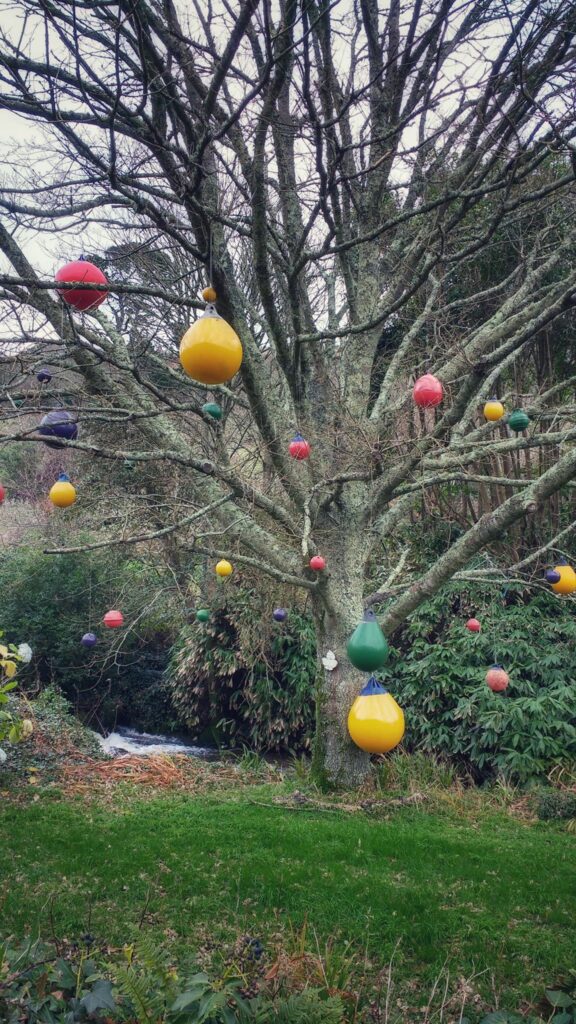 We spent a little bit of time looking around the cove and the picturesque setting for these cottages…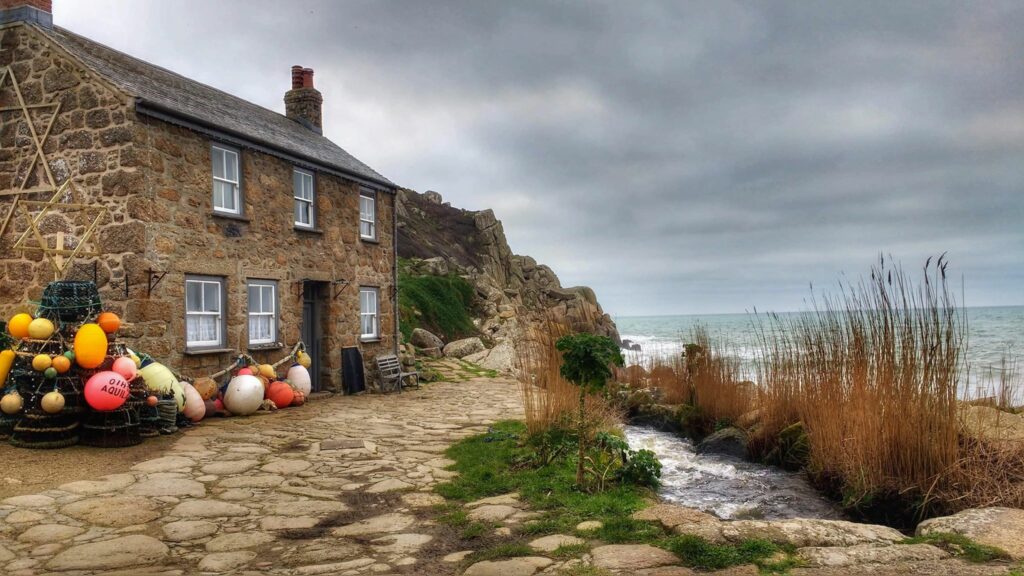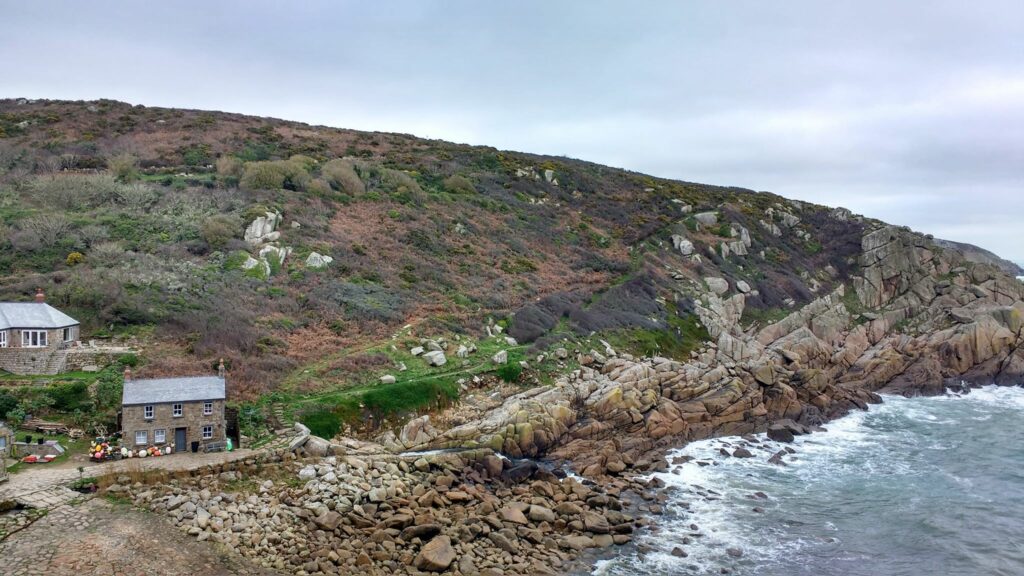 We then took the coastal path and climbed out of the cove and headed off towards Porthcurno.
The wind was chilly and the sea that wintery steel grey colour, but it was still breathtaking and certainly blew the cobwebs away!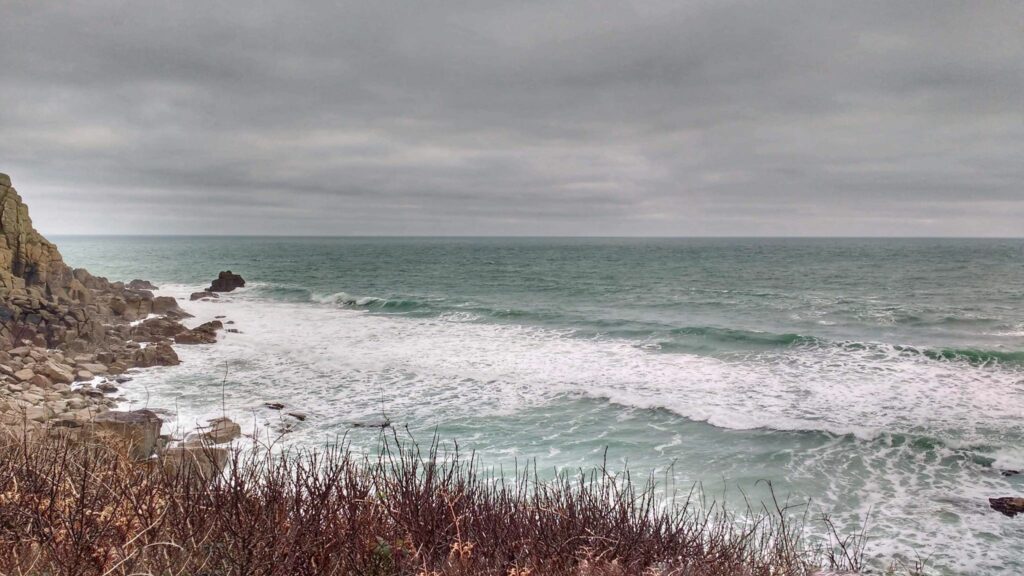 We met these grazing ponies along the way…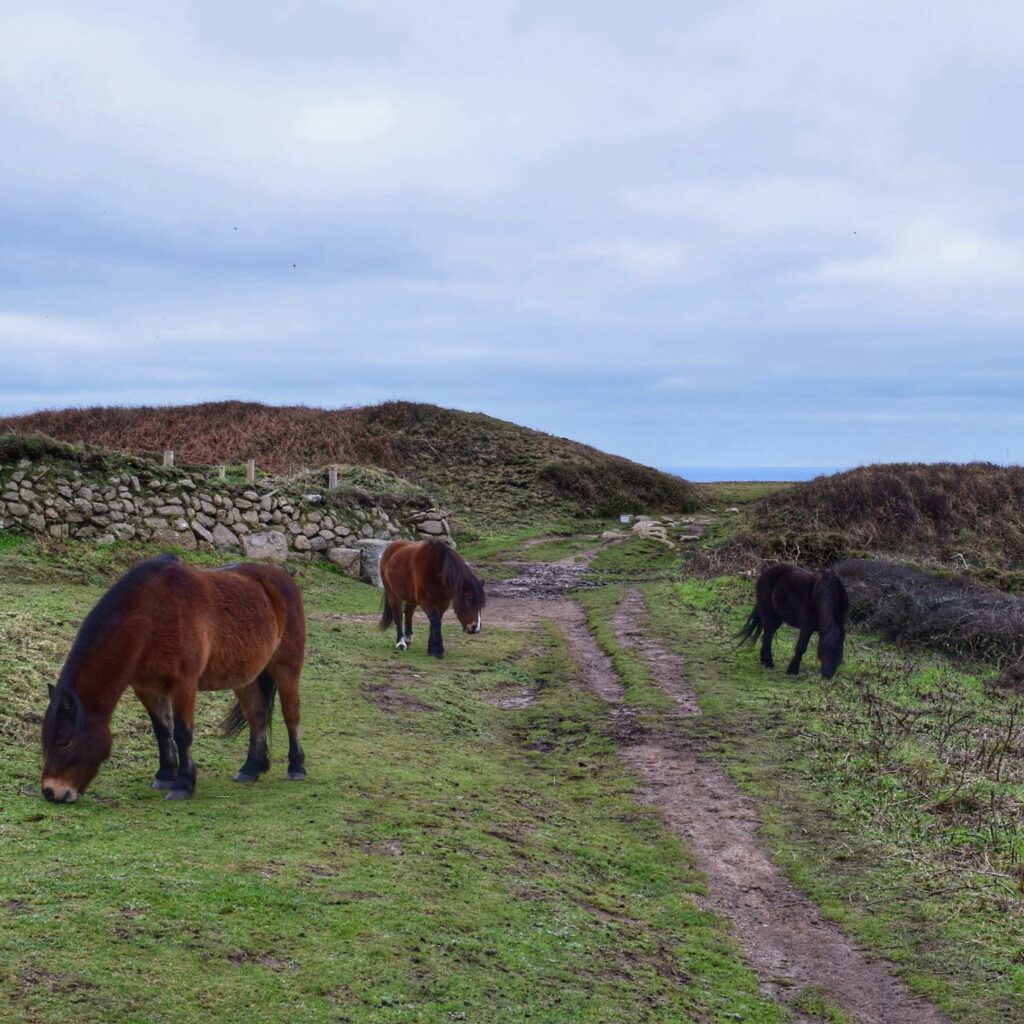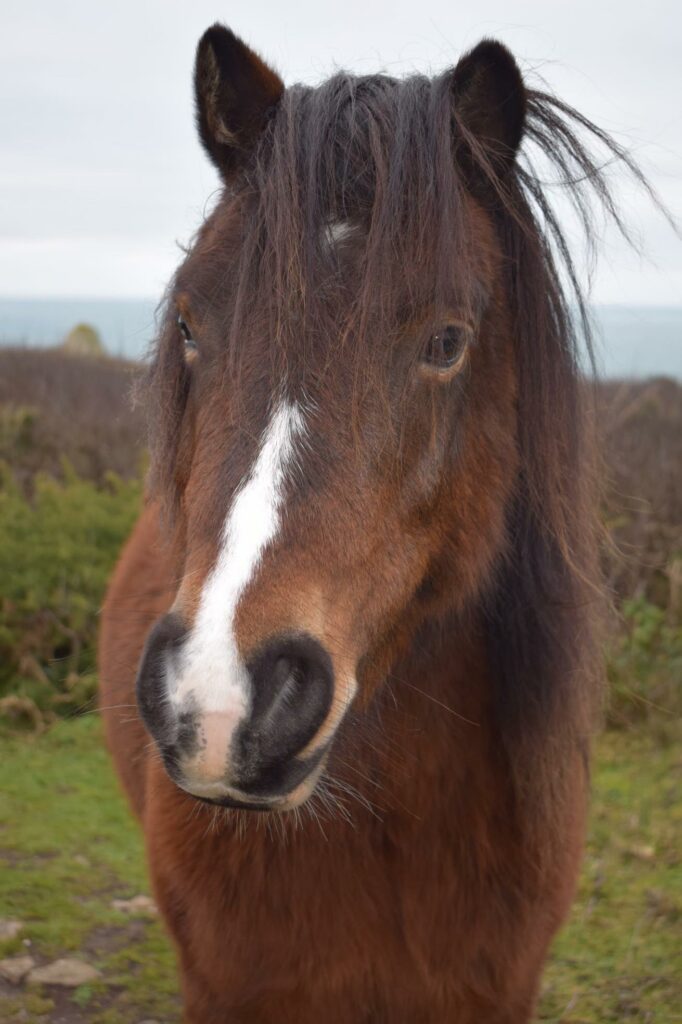 Eventually we reached Porthcurno, a place of great importance and home to the fascinating Porthcurno Telegraph Museum that tells the story of Cornwall's role in the pioneering days of global communications – well worth a visit, and only a short walk away from the beach. Porthcurno of course also boasts the internationally renowned Minack Theatre, built in the 1920s by theatrical visionary Rowena Wade and her faithful gardener, which you can visit all year round.
On top of all that, it has also has a beautiful beach with gorgeous fine soft white sand washed by a sea that turns turquoise in the sun and high cliffs on both sides providing shelter.
Not quite turquoise on this day, but was still a great place to stop and watch the waves rolling in…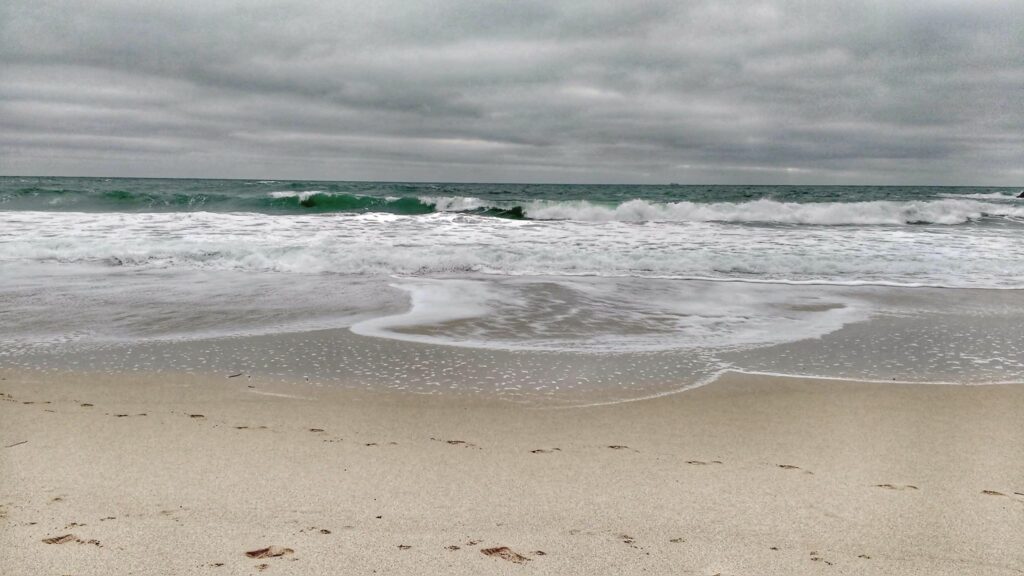 From the beach, it was a climb up to rejoin the coastpath with a fabulous view back along the coastline we had just walked – you can just make out Pedn Vounder beach which whilst is stunning (especially in the summer) it is a challenging clamber to get down to and you should be warned that it is a naturists' spot so go prepared to see perhaps a little more that you'd anticipated!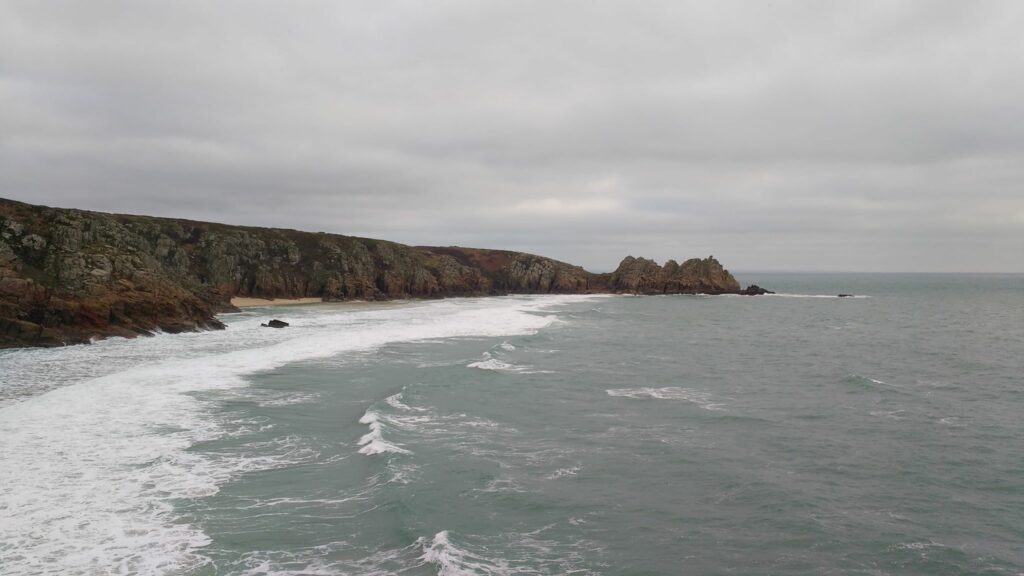 From the Minack carpark we picked up the coastpath once more and set off towards Porth Chapel where we found a sheltered spot from the wind to have a sit down to eat our turkey sandwiches!
From Porth Chapel and St Levan's Well, we headed inland to complete our circular walk back to Treen across some fields.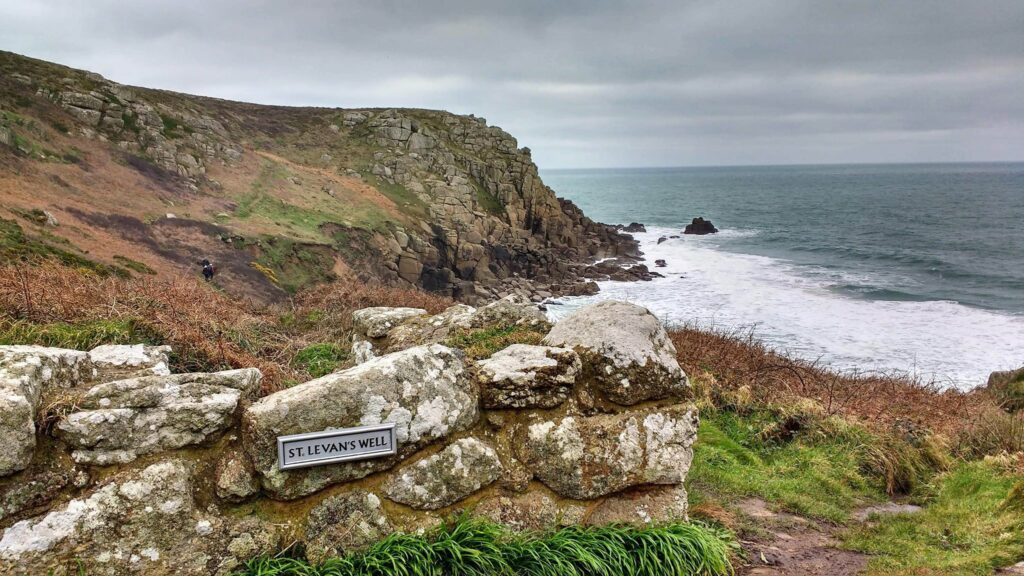 From the well, you could keep going along the coastpath to Porthgwarra, a little fishing hamlet made famous in Poldark (imagine Ross Poldark swimming in the crystal clear water here…). The following is a photo of Porthwarra (obviously taken in the summer!) and has been taken from the Visit Cornwall website.
So, a very nice stretch of coastline to explore with fishing coves, an Iron Age hill fort, the rocking stone at Logan Rock, beaches, a theatre and museum and a pub – plenty to see and do to make a really great day out. Treen is only about a 35 minute drive from here – I would highly recommend it, and whilst it's beautiful at any time of year, of course on a warm, sunny day it would be even more stunning with the possibility of a dip in the sea to top it all off…